Finally back to Marathon Sunday with a look at the world's oldest annual Marathon: The Boston Marathon!
Check out this wicked awesome course
The Boston Marathon is one of the
5 World Marathon Majors
and is considered to be the premiere American race for pro Marathoners. It is the only US Marathon that requires a qualifying time for entry. The qualifying time was instituted in 1970, but I'm sure that as far back as the beginning of the race in 1897, there were running nerds who were obsessed with 'The Boston'. That's 112 years of running nerds driving everyone around them crazy with their all consuming need to qualify. 112 years of runners wearing their Boston Marathon gear to EVERY other race they run, just to make sure YOU KNOW. 112 years of conversations being hijacked with 'That's interesting, you know it reminds me of when I ran Boston...' (FYI, I would shamelessly do all of these things if I qualified, which would mean I'd have to run a time of 3:40:00 at a pace of 8:24mi. Just sayin'.)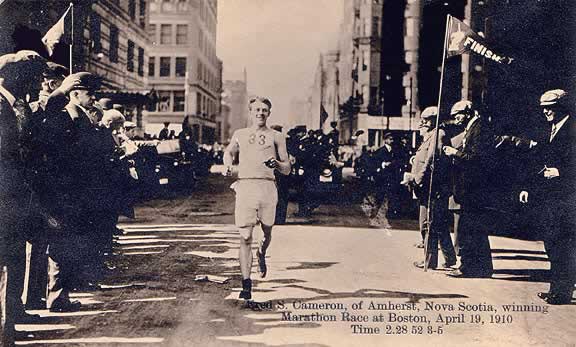 Check out this wicked old timey winner
In the 60's and 70's Boston was the site of many many women trying to break through the wicked stoopid rules that banned women from competing. In 1967 (5 years before women were allowed to compete)
Kathrine Switzer
registered as K.V. Switzer, and became the first woman to run with an official number. She ran with her boyfriend, who did a fine job of defending her when race official Jock 'Strap' Semple tried to rip her number off and pull her from the course.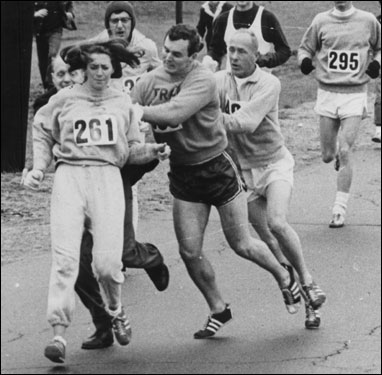 Check out this wicked ridiculous gender oppression
Kathrine went on to win the 1974
NYC Marathon
, and the following year hit the Boston Marathon again with a second place finish (and wicked amazing PR of 2:51.33). She has run 35 marathons in her career, and is considered to be a pioneer and undisputed Bad Ass in the history of Women's sports.
Jock Semple
redeemed himself in 1972 by officially allowing women to enter the race, and maybe he was actually an OK guy, but seriously Jock, you are still an ass for laying hands on Kathrine when all she wanted to do was lay down some lady miles in your wicked prestigious race.
In 1983,
Greg Meyer
was the last American male to win the race, with a time of 2:09. Greg was a key figure in the fight for the right to make $$ as a runner, and also was instrumental in opening the Olympic Games to pro athletes.

Check out Greg and his wicked 80's beard making history
The Boston Marathon is famous for 'Heartbreak Hill' at miles 20 and 21 of the race. The elevation climb is only 88 vertical feet (NYC runners, to compare: the Harlem Hills in Central Park rise 105 vertical feet), but at the point in the Marathon where most runners
hit the wall
, its not exactly an easy climb. The name came from the 1936 race when John A. Kelley gave race leader, Ellison 'Tarzan' Brown a 'consolatory pat on the shoulder as he passed'. What?! That is wicked uncalled for dude, and Tarzan rightly decided not to take his arrogant crap. Tarzan kicked hard and took back the lead to win, 'breaking Kelley's heart.' Whatever, Kelley. You had it comin'.
So there we are. Boston, you may only have 500,000 spectators to NYC's 2,000,000+, but your history is quite interesting, and you give me an excuse to say 'wicked' a lot.
Here's a video of the 2009 Men's and Women's finishers. The two strongest American contenders were
Kara Goucher
and
Ryan Hall
, both running strong races, but finishing a still respectable third place. Both are amazing athletes, and I will be writing about them later, but for now, watch Kara's race to the finish against Kenyan Salina Kosgei and Ethiopian Dire Tune.